Description
Details
Product Overview:
The EZ-PCR™ Mycoplasma Detection Kit is a highly-sensitive and -specific PCR assay designed to test for the presence of over 90 species of Mycoplasma, Acholeplasma, and Spiroplasma in cell cultures with a detection limit of 10 CFU/mL. The kit contains a ready-to-use PCR reaction mix with highly-optimized mycoplasma-specific primers, a positive control, and an internal control, all for the simple and efficient discovery of mycoplasma contamination. Samples can be prepared in as little as 10 minutes and results can be easily obtained within just a few hours.
Easy to use. A complete PCR reaction mix that contains primers, Taq polymerase, and dNTPs is included.
Easy to run. Follow a simple protocol with ready-to-use reagents for as little as 10 minutes of preparation.
Easy to interpret. Internal and positive controls are included to ensure efficient and accurate PCR interpretation.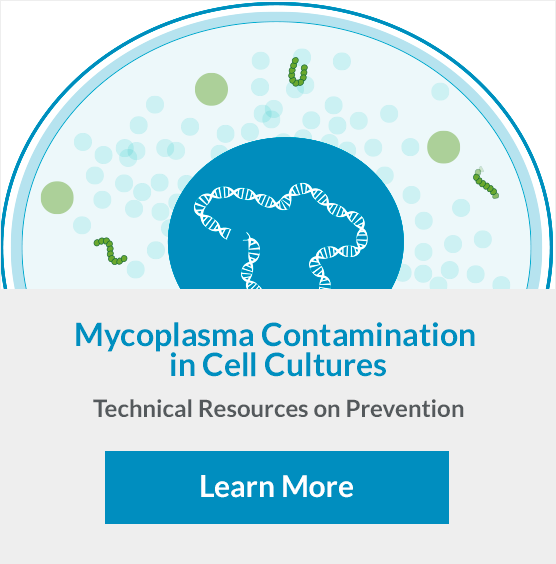 Avoid False Negatives - Internal Control Included
The EZ-PCR™ Mycoplasma Detection Kit includes an internal amplification control, a plasmid containing a non-mycoplasma-specific DNA sequence to test for false negatives. This internal control is simultaneously amplified in the tube with cell culture samples, and should be used with all PCR samples, including the negative and positive controls. This combination rules out inhibition from biological material, among other assay malfunctions that lead to misinterpretation of results, namely, false negatives.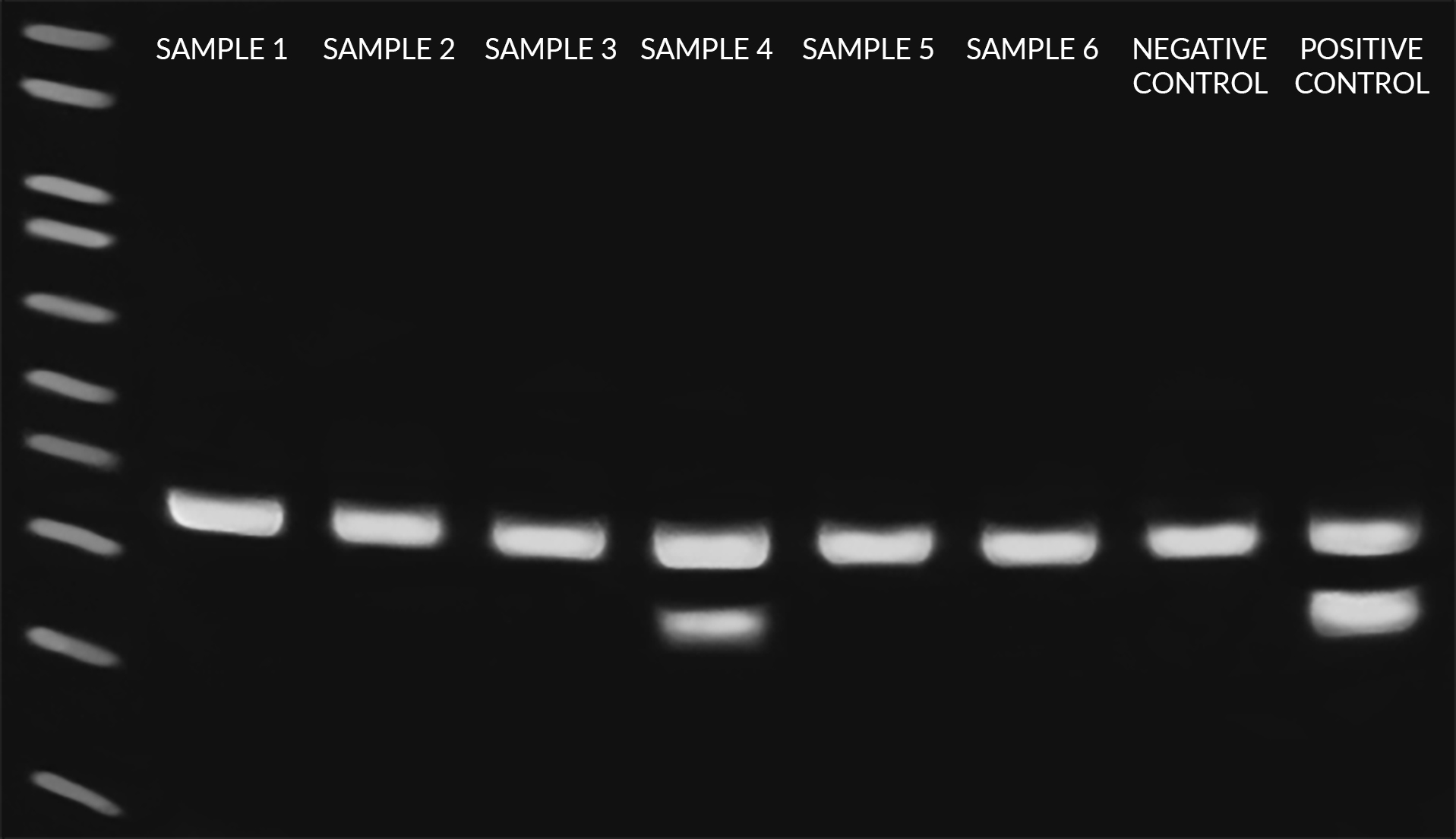 Figure 1: Gel electrophoresis results obtained following PCR reaction preparation and amplification using the EZ-PCR™ Mycoplasma Detection Kit. Eight total reactions, including six samples, one negative control, and one positive control were tested, each of which contain the internal control to rule out PCR inhibition (i.e. false negatives). As shown, Sample 4 produced a mycoplasma-positive band at 270bp in addition to the internal control band at 357bp, while Samples 1, 2, 3, 5, and 6 produced only internal control bands and are thus negative for mycoplasma. Image courtesy of WiCell Research Institute.
The Importance of Routine Testing
Mycoplasma are one of the most common, yet elusive, contaminants of mammalian cell cultures. As the smallest known free-living organism, mycoplasma are a pervasive, parasitic species of highly-infectious bacteria that are estimated to contaminate between 15-35% of all continuous cell cultures worldwide. While other mycoplasma detection methods are available, PCR-based assays have the highest sensitivity with minimal preparation time for early detection in a rapid and simple manner, when compared to other methods.
The earlier mycoplasma contamination is discovered, the simpler it is to treat. The easy-to-use and cost-efficient EZ-PCR™ Mycoplasma Detection Kit was designed for highly-sensitive routine screening and detection of mycoplasma and other closely related species. To avoid major contamination, testing should be carried out minimally every 2 weeks to 3 months, especially when shared incubator spaces are used, as well as prior to the incorporation of new cultures from outside sources.
Efficient and precise PCR-based testing for mycoplasma infection should also be conducted throughout the cell culture manufacturing process from inoculation through harvest, involving routine tests of raw materials, cell banks, and viral seed stocks.

Figure 2.
Images represent examples of mycoplasma that are capable of infecting all cell culture labs. Mycoplasma can be self-replicating and are the smallest known free-living prokaryote. Mycoplasma contamination can not be seen under a standard microscopes.
Requirements from Leading Scientific Journals and European Pharmacopoeia Guidance
Due to the prevalence of mycoplasma in cell cultures and, more importantly, the adverse effects on a number of cellular functions that contamination causes, many major, high-impact scientific journals have begun requiring proof of testing prior to publication. Moreover, regulatory guidance recommends that all products derived from mammalian cell culture be tested for the presence of mycoplasma. Already in 2007, the European Pharmacopoeia (5.8, Sec. 2.6.7) provided guidance on the validation requirements for nucleic acid amplification–based methods (PCR) as a substitute for the time-consuming, direct cell culture methods of detection.
Specifications
Specifications
| | |
| --- | --- |
| QTY | 20 reactions |
| Brand | EZ-PCR™ |
| Storage Conditions | -20º |
| Shipping Conditions | Dry Ice |
References
Documentation
Certificate of Analysis
Certificates of Analysis (COA's) describe quality control data for specific product lots.
COA's can be downloaded from
Sartorius's Certificates Portal
.
For certificates issued before November 15, 2021, please enter below the product lot number and click search.
If your search does not return any results, please
contact us
for assistance.
Reviews
Customer Reviews (7)
Top product!!!

Review by

Thomas G.

We use EZ-PCR™ Mycoplasma Detection Kit to test our iPS cells periodically of mycoplasma contamination and are absolutely excited about the manual, the handling, the procedure, etc. of it. It is very easy to use and you get reliable results very quickly in only a few steps. (Posted on 3/18/2020)

Easy to use and fast

Review by

John-Mario Roussis

It's an easy and fast way to check whether your cell lines are contaminated with mycoplasma (Posted on 4/24/2018)

easy to use , very efficient

Review by

amina jbara

Easy to use, very efficient. (Posted on 1/15/2018)

very easy to use

Review by

Gidi Karmon

very easy to use, quick protocol, consistent results. (Posted on 1/11/2018)

Exellent

Review by

Orit Sagi-Assif

Very good product, get quick results.
The price is too high.
(Posted on 1/9/2018)

Good product

Review by

Sharon Tal

Very helpful. easy to use (Posted on 11/15/2017)

Good

Review by

Gk

Good (Posted on 10/27/2017)
Write Your Own Review
You may also be interested in the following product(s)