Description
Details
Product Overview
NutriStem® V9 XF medium is a defined, xeno-free, serum-free medium designed to support the growth and expansion of human pluripotent stem cells (hPSC), using vitronectin and enzyme-free passage using EDTA. It contains only the essential components required for long-term maintenance of hES and hiPS cells. NutriStem® V9 XF medium shows superior proliferation rates during long-term cultures, while maintaining the pluripotency of the cells.
NutriStem® V9 XF medium allows culture of hPSC in vitronectin pre-coated culture, as well as direct addition of vitronectin to the medium (no need for pre-coating).
Features
Maintains human ES and iPS cell pluripotency at high passage
Superior results using Vitronectin, may be used with Matrigel coated plates
Save time and skip the time consuming precoating step!
Defined, serum-free, xeno-free
Produced under cGMP
Supports long-term expansion
Long weekend-free (up to 60 hours
Cytokine- free basal medium, applicable for EBs formation, reprogramming, and differentiation
The proteins used: HSA (Human Serum Albumin), rh bFGF, rh TGFβ, human transferrin and recombinant human insulin.
Contains Alanyl glutamine. Does not contain antibiotics.
Sample Data
Long-term Expansion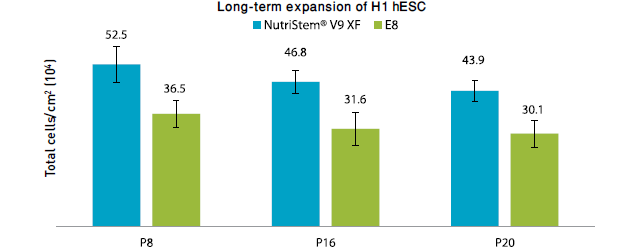 Nucleocounts performed on equal volume of cell suspension Chemometech, (count of aggregated cells) during long-term expansion of H1 cultured in NutriStem® V9 XF medium and E8 under a weekend-free feeding regime using 0.5μg/cm2 Vitronectin ACF. NutriStem® V9 XF medium shows superior proliferation rate in long-term culture (over 20 passages)
Phase contrast images (x100) of H1 hESC culture maintained in NutriStem® V9 XF medium under a weekendfree feeding regime, using 0.5μg/cm2 Vitronectin ACF. Representative images from culture at P6, P16 and P20. Undifferentiated colonies maintained during long-term culture of H1 hESC
Immunofluorescence staining
Immunofluorescence analysis of human pluripotent markers of H1 hPSC expanded in NutriStem® V9 XF medium under a weekend-free feeding regime using Vitronectin ACF. Cells from P8 were fixated and stained for the classic pluripotent surface markers: TRA 1-60 (Alexa Fluor) (green) and nuclear conjugated markers: Nanog-RRX, counterstained with DAPI (blue). Scale bar 200μm. Cells cultured in NutriStem® V9 XF Medium on vitronectin express high levels of pluripotent markers
Flow cytometric quantification

Immunophenotyping analysis for human pluripotent markers of H1 hESC culture maintained in NutriStem® V9 XF medium under a weekend-free feeding regime using 0.5μg/cm2 Vitronectin ACF at P8 and P17. Data presented as % expression from gated viable cells. High expression of pluripotent stem cell markers in cells cultured in NutriStem® V9 XF medium on vitronectin
Specifications
Specifications
| | |
| --- | --- |
| QTY | 500 mL |
| Form | Liquid |
| Brand | NutriStem® |
| Storage Conditions | Store at -10° to -20°C |
| quality control | Each lot is tested for performance using H1 hESC by expansion of the cells for 3 passages, IF staining for pluripotency marker, and morphology. Other tests include sterility, pH, osmolality and endotoxins levels. |
| legal | NutriStem® is a registered trademark of Biological Industries​. |
Documentation
Material Safety Data Sheet
Manuals and Protocols
Product Literature
Frequently Asked Questions
Reviews
Tags
You may also be interested in the following product(s)