Description
Details
Product Overview
NutriStem® hPSC XF Medium is a widely published, defined, xeno-free, serum-free cell culture medium designed to support the growth and expansion of human induced pluripotent stem (hiPS) and human embryonic stem (hES) cells. Protocols have been established around the world for applications ranging from derivation to differentiation. NutriStem® hPSC XF Medium offers the ability to culture cells in a completely xeno-free medium without the need for high levels of basic FGF and other stimulatory growth factors and cytokines. NutriStem® hPSC XF Medium exhibits a consistent media performance and predictable cellular behavior derived from a defined xeno-free formulation as well as increased reproducibility shown in long-term growth of over 50 passages.

Low-protein formulation that contains stable L-alanyl-L-glutamine and HSA.
NutriStem® hPSC XF Features
Defined, serum-free, and xeno-free
Flexible and compatible with multiple matrices
Amenable to weekend-free culture
FDA Drug Master File (DMF) available, produced under cGMP
Enables efficient expansion and growth of hES and hiPS cells in feeder-free culture systems
Extensively tested and widely used on multiple hES and iPS cell lines, including H1, H9.2, I6, I3.2, and CL1
Sample Data
Cell morphology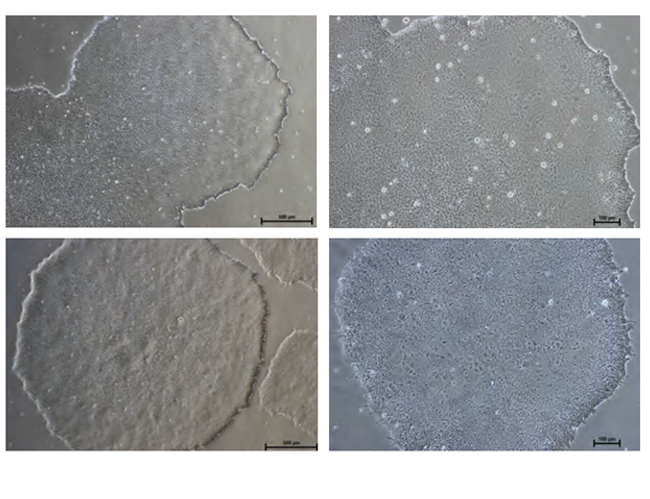 Figure: Normal Colony Morphology. H1 hES cells (top panel) and ACS-1014 hiPS cells (bottom panel) cultured in NutriStem® hPSC XF Medium on Matrigel-coated plates display colony morphologies typical of normal feeder-free hES and hiPS cell cultures, including a uniform colony of tightly compacted cells and distinct colony edges.
Immunostaining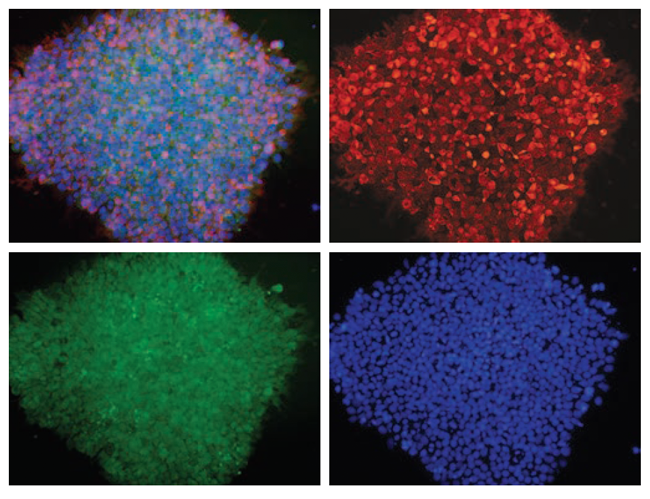 Figure: H1 cell morphology and immunofluorescence analysis of hESC markers red SSEA-4, green OCT4 and blue DAPI. H1 cells stained positive for the expression of pluripotency markers.
Embryoid body formation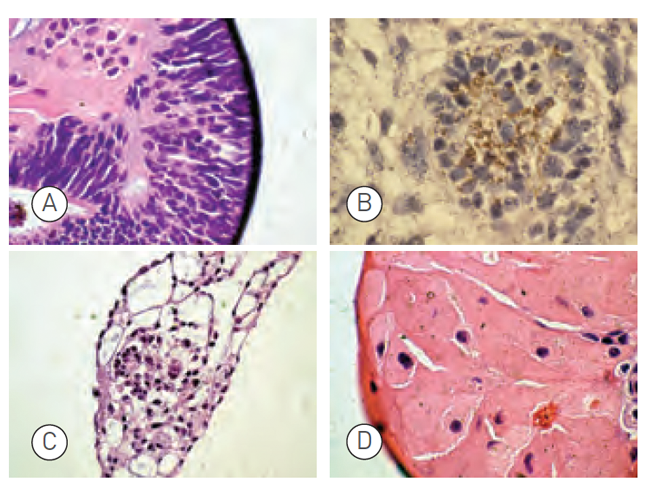 Figure: Embryoid bodies (EBs) were generated from H9.2 hES cells cultured for 16 passages in NutriStem® hPSC XF Medium on Matrigel matrix as an evaluation of pluripotency. The pluripotent H9.2 cells were suspended in serum-supplemented medium, where they spontaneously formed EBs containing cells of embryonic germ layers. The following cell types were identified by examination of the histological sections of 14-day-old EBs stained with H&E: (A) neural rosette (ectoderm), (B) neural rosette stained with Tubulin, (C) primitive blood vessels (mesoderm), and (D) megakaryocytes (mesoderm).
Taratoma formation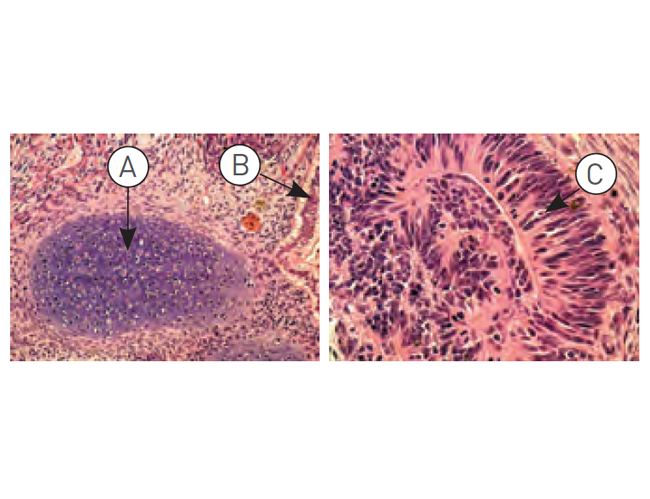 Figure: H9.2 hES cells were cultured for 11 passages in NutriStem® hPSC XF Medium using a human foreskin fibroblast (HFF) feeder layer. The hES cells were subsequently injected into the hind leg muscle of SCID-beige mice for in vitro evaluation of pluripotency. The following tissues from all three germ layers were identified in H&E-stained histological sections of the teratoma 12 weeks post-injection: (A) cartilage (mesoderm), (B) epithelium (endoderm), and (C) neural rosette (ectoderm).
Specifications
Specifications
Form
Liquid
Brand
NutriStem®
Storage Conditions
Store at -20ºC
Shipping Conditions
Dry Ice
Quality Control
NutriStem® hPSC is routinely tested for optimal maintenance and expansion of undifferentiated hESCs. Additional standard evaluations are pH, osmolality, endotoxins and sterility tests.
Instructions for Use

Upon thawing, the medium may be stored at 2 - 8ºC for 14 days

Media should be aliquotted into smaller working volumes to avoid repeated freeze/thaw cycles

Avoid exposure to light

Note: A common feeder-free basement membrane matrix is Matrigel, which is not xeno-free. Effective xeno-free alternatives to Matrigel is recombinant laminin, such as LaminStem(R) 521 (BI Cat. No. 05-753-1F) which has been validated to successfully culture human ES and iPS cells using NutriStem® hPSC XF medium.

Legal
NutriStem® hPSC XF is registered as an In-vitro diagnostic (IVD) medical device. NutriStem® is a registered trademark of Biological Industries​.

A Drug Master File (DMF) for NutriStem® hPSC XF is available.
References
references
Growing Methods of hESC and iPSC (Derivation, Expansion, Scaling up, and Suspensions)
Differentiation of Pluripotent Stem Cells
Cardiomyocyte differentiation
Proteins and Antibodies Expression and Isolation
Different Basement Matrices
Documentation
Certificate of Analysis
Certificates of Analysis (COA's) describe quality control data for specific product lots.
COA's can be downloaded from
Sartorius's Certificates Portal
.
For certificates issued before November 15, 2021, please enter below the product lot number and click search.
If your search does not return any results, please
contact us
for assistance.
Reviews
Customer Reviews (5)
Highly suitable for hESC and hiPSC variety of cultures

Review by

Reuven

Very simple to use, works well with different coating substrates.
Easy to handle, and to transition cells to other protocols and media.
Been working for over 6 years on different hESCs and hiPSCs and always gave robust yield of cells. BI staff is kind and gives good prices and discounts, highly recommended.
(Posted on 3/3/2020)

reliable product

Review by

Meichen Liao

It is convenient to use this media without mixing different components. In addition, the iPSC cells grow consistently in this media. (Posted on 2/28/2020)

Very good medium for ES/iPS culture

Review by

Hari

We have used it for about a year now and it has worked very well for us.
Excellent response to technical and sales requests.
Very reasonably priced. (Posted on 2/28/2020)

Best medium for human ES/iPS cell

Review by

Allen Feng

I have used various formula of human ES/iPS cells for over 15 years. NutriStem is by far the best overall medium choice when considering quality, consistency in results, reasonable cost and easy to use. For many years of my industry work, I never encounter any technical issue in human ES/iPS culturing when using NutriStem. Hope BI will continue to supply such high quality product. (Posted on 2/28/2020)

Five Stars, highly recommended

Review by

John

Worked very well for us. High quality medium that gave us the most control over our cells. Ingredients you need. Highly recommended. (Posted on 10/24/2017)
Write Your Own Review
You may also be interested in the following product(s)